Genghis Grill Focuses on Fresh with New Prototype Design
ID Studio 4 teamed up with Irving, Texas-based Genghis Grill, recently rolling out their new prototype - designed to refresh the concept by highlighting what makes this style of food special and giving the new prototype a brighter, more open feel.
---

Restaurant Development + Design | rd+d | rddmag.com
January 8, 2019
Mongolian barbecue was once The Next Big Thing in the restaurant industry.
The past several years, though, have seen these concepts loose some of their shine. Recognizing this, Irving, Texas-based Genghis Grill recently rolled out a new prototype designed to refresh the concept and highlight what makes this style of food special.
According to Doug Willmarth, the chain's chief marketing officer, the redesign started with consumer research that allowed the concept to focus on its strengths. While people who weren't regular customers thought of Genghis Grill as an Asian restaurant, he says, regular customers think of it as "a fresh, made-for-me place."
With the company homing in on the custom-made nature of its menu, Genghis grill upgraded its assembly line, the space where guests select their ingredients and place them in bowls. According to Willmarth, this area is deigned "to feel like a clean kitchen environment where we've prepped everything for you."
To create this clean kitchen, the restaurant installed marble-style solid surface counter tops, easy-to-clean wood laminate counter faces and subway tile on the line's back wall. Wall decor in the space emphasizes the creation and customization parts of the concept, with food photography showing different ingredients going into a bowl.
Around the dropped ceiling element around the grill itself, meanwhile, the chain added a wall graphic encouraging guests to experiment and "Go Bowl'd."
The sense of freshness and adventure carries over into Genghis Grill's redesigned dining area.
According to Willmarth, the previous prototype made use of vertical structures that broke up the space and interrupted sight lines.
With the chain's focus on freshness, the designers gave the new prototype a brighter, more open feel. The vertical structures have been removed and the ceiling color changed from black to gray. Brighter colors now define the space, including multi-colored banquettes and tan cloud elements that help bring the room down to scale. Notably, added Willmarth, the chevron patterns in the clouds offer both form and function. "There's a sense of energy, a sense of fun to them, but if you keep close attention they point you in the direction you're supposed to walk because our line is one way."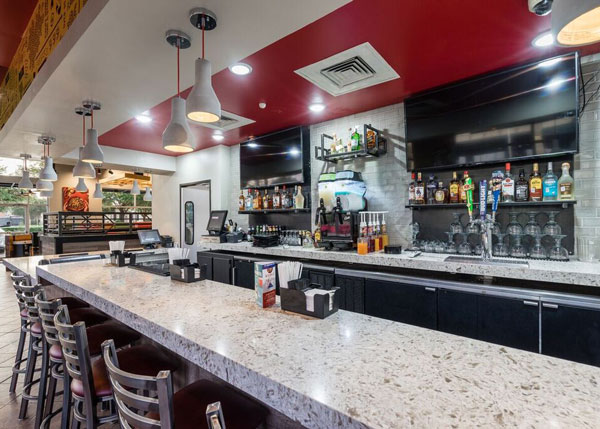 Another area that got an upgrade was Genghis Grill's bar. The space, says Willmarth, is designed to be more appealing while also meeting ADA accessibility guidelines.
The bartop, for instance, changed from a wood-trimmed laminate to the same marble-style solid surface material used for the counter where guests assemble their bowls. The bar was also equipped with larger flat screens and a pair of frozen drink machines.
Not only do these upgrades enhance the experience for bar patrons but carry out customers also benefit. Previously, these guests didn't have a specific area to wait for their food, says Willmarth. Thanks to new signage, the bar is now the designated pick-up spot for to-go orders.
The bar has the infrastructure to support these guests even more going forward.  "The bar area is wired for everything you'd need for a self-service kiosk. We just haven't put that in place. We're future-proofing," says Willmarth.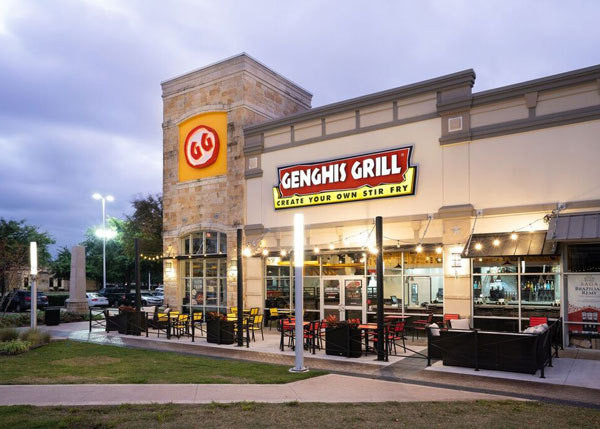 While patios aren't unheard of at Genghis Grill, the new prototype location presented an interesting opportunity to create an enhanced outdoor dining experience.
At this store, says Willmarth, the developer changed parking adjacent to the patio into green space. The company decided to take advantage of that space and add enhanced design touches like string lighting and more comfortable seating, including soft seating.
"We aren't the sort of place where you would normally come and hang out. But for people who want to come and linger and be a little bit more social, we thought it was an interesting option to have. It's really more of an experiment for us given this particular location."